Primark, Primark, Primark. Basically, I love Primark! Do I need another reason to do a haul?
The first thing I picked up was this gorgeous patterned playsuit, with a halter neck and that bright pop of colour it's the perfect summer slip-on. I can't stop imaging what this beauty is going to look like with a tan! The embellished neckline reminds me of the statement necklaces that are so in fashion at the moment and for only £10 you can't really go wrong. This playsuit actually comes in various different colours and patterns but this is my favourite by far.
Considering I'm spending the next two weeks in the South of France, sweet summer dresses are essential. Primark have a huge collection of dresses in different colours and styles all for only £5, obviously I bought two. Bright blue is something that I would never usually go for but this dress is so pretty that I couldn't resist. The crochet bodice creates a little texture in the otherwise simple dress but I really love the way that it comes in at the waist to create a gorgeous silhouette.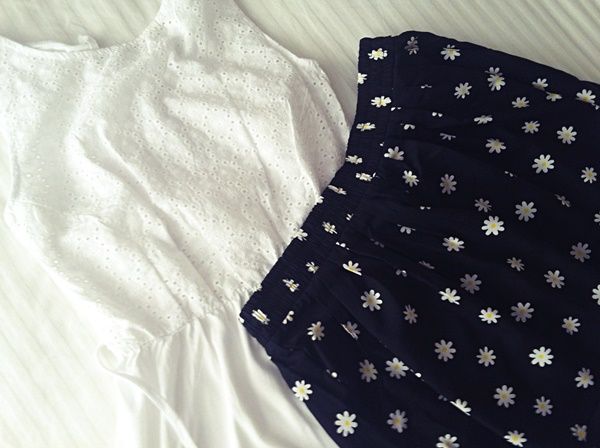 White is a colour that I love to wear but find quite difficult, especially when you throw in the added horror of suncream stains! But I can't go to Cannes without a perfect, white number. This gorgeous sun dress has a tie at the waist to create a great shape, it's perfect! I couldn't recommend Primark's dress selection more, especially if you're about to go away on a budget.
Patterned shorts are a wardrobe staple for me at the moment and this daisy print is so exception. It's not something I would usually go for but I've seen quite a few bloggers wearing these and they just look so amazing that I had to have them. I thought they'd work really well with a plain white tee tucked in and maybe these white sandals...
If you're familiar with my
May Favourites
then you might recognise these gorgeous sandals. They're honestly the comfiest shoes I've ever worn, not to mention they're only £8! So obviously, I had to have them in white too. To be fair, I love anything with gold details.
Something that Primark always do really well is make up bags and check out this bad boy. It's a great size, I've already taken it for a test run and managed to fit everything including my hair products in here for a weekend away. It's a gorgeous pattern and the little jewel detail is so cute.
What are your summer staples for this year?