This month I started a new job. I've also spent a little more than I'd like to admit. Amongst the mountains of new clothes and haul-worthy trips to Boots, there are a few things that I've particularly been loving in May.
1. Anyone who's been to
New Look
recently knows that they're on point when it comes to summer essentials. The sheer amount of floral prints takes me straight to the beach not to mention the palm trees! These high waisted
Blue Floral Print Shorts
are really flattering and add a pop of colour to any outfit. I wore them to a tropical themed party recently and fit right in.
2. Speaking of New Look, I can't get enough of the pineapple cup that I picked up from the Brighton store. I always have it with me filled with either squash or water throughout the day and it's definitely made keeping hydrated more fun.
3. Talking of summer, I've found the perfect holiday gloss. The
Colour Boost Lip Crayon
from Bourjois Paris in Peach On The Beach is the most gorgeous shade of bright pink and need I mention how much I love the name? The light formula gives a sleek application and it's seriously buildable. It not only contains SPF 15 but it's supposed to be waterproof. I can't wait to test it this summer!
4. Another beauty favourite is
Hocus Focus Instant Visual Flaw-Softening Illuminator
from one of my favourite brands, Soap & Glory. If you're on the hunt for a good highlighter, a tiny drop of this mixed-in with foundation creates a gorgeous under the skin glow. I've never really looked to Soap & Glory for make-up but I definitely will now.
5. Real Techniques - need I say more?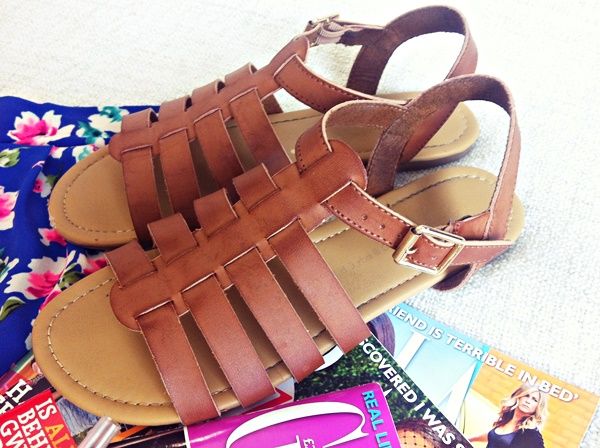 6. Finding comfortable shoes is always something that I've struggled with but these sandals from Primark are officially my new favourite thing. They're super comfortable and only cost £8! I've been wearing them non-stop for a couple of weeks now and they're holding up pretty well.
7. May has been a month of discoveries for me, including Essie. I've wrote a whole blog post on how much I'm loving
Fiji
at the moment which I'll link for you
here
.
8. Another nail polish love this month comes from L'Oreal.
Rose Paradis
(201) is part of the Color Riche collection and it's just the most gorgeous light pink. When I first saw these I thought it was crazy that they come in such tiny bottles but it's actually a pretty perfect size. When was the last time you actually finished a nail varnish? No, me neither.
9. I've never really been into L'Oreal products but this month I've been loving them. The
Super Liner Brow Artist
in 02 Blonde is literally God's gift to me. It has a brow colour on one end and a finishing wax on the other, throw in a spooly and you're good to go.
10. I also like Grazia magazine.
So, that's my favourites for May. What have you been loving this month?