If there's one thing I'm good at it, it's nails. It's taken several years, tears and a lot of time and effort but finally I have reached the point where I can say, I will always have flawless nail varnish. We all have our calling, for some girls it's makeup and others hair, but mine is this. Needless to say, I'm always on the look out for new products that are going to take my manicure to the next level. So, when
Gelicious
contacted me asking if I'd like to try out their gel nails, I jumped at the chance and this is what happened next!
Gelicious Hybrid Gel Nail Colour
*
is exactly what you would expect it to be, it's a salon-style gel nail colour which you can apply at home using a
Gelicious UV LED Nail Lamp
. I've had gel nails done before but I never thought it was something that I would be able to do myself. Similar to acrylic nails, gel nails are a longer-lasting alternative to nail polish however gel nails are more natural than acrylic and leave your nails in a much better condition afterwards.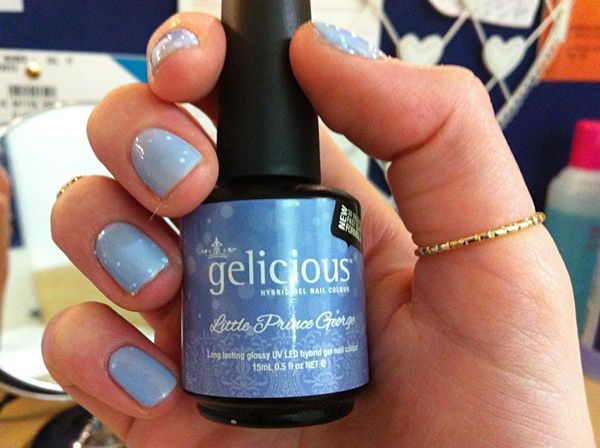 I expected the process to be very difficult and time consuming but using Gelicious Nail Colour was just as easy as applying regular nail polish. The step-by-step instructions provided are so simple to follow and each step takes no more than 2 minutes to complete. Essentially after each layer you paint, you 'cure' the coat under the LED lamp, and that's the only difference! My favourite thing about Gelicious is that once you're finished applying the colour, there's no waiting around for it to dry. It's dry as soon as you're done so you don't have to spend hours wandering around waving your hands about only to get them all creased going to bed later on!
Gelicious sent me their
Mani-Pedi Starter Pack
which includes a UV LED nail lamp, the
Ultra Glaze Top Coat
(which is essential for gel nails) as well as a
Gelicious Gel Hybrid Nail Colour
. I have the shade '
Little Prince George
' which is a gorgeous baby blue with white polka dots inspired by Kate Middleton's dress in the first pictures of the baby! I thought this was such a great idea and absolutely love the colour. But if this isn't quite your style, Gelicious have over 50 different colours to choose from so there's something for everybody.
When I first tried Gelicious, I had a few problems with peeling which apparently is a common problem with first-time users just because it takes a bit of getting used to. I emailed them asking for some advice, they were so helpful and gave me a list of tips to make sure that you get the best wear out of your nails. Make sure your hands are dry and clean, any moisturiser is a big no-no because the gel will have nothing to hold on to. Buff and shape your nails before beginning and paint with very thin coats - it's not like nail polish, you don't need to make sure it's opaque!
I would say that the Gelicious Nail Colour didn't last quite as long as I was hoping, mine lasted for about 5 days before it began to chip and being a perfectionist I then had to take it off completely! I'm sure it could last for longer, it just depends on the application. Considering 5 days is about the length of time regular varnish lasts for me (with a top coat), I wouldn't say that's too bad! Don't worry about taking the gel off either, you just soak it in remover for a few minutes until it softens then it pulls right off without damaging your nail at all.
I've had so many compliments on this that I would definitely wear it again and am looking into purchasing a few more different shades to have a go with this spring, my favourites are '
Strawberry Milkshake
' and '
Aztec Blue
'. What are yours? Let me know if you've tried Gelicious before or are going to after reading this - I would love to know what you think!