Please forgive me. I've been away for a month and I come back with these horrible, poorly lit pictures. I know, what an amateur. But with three stories of scaffolding directly outside my lovely bay windows there's absolutely no light to be had. It's heartbreaking, really. As for being away, university is really kicking my ass at the moment. Deadline after deadline after deadline. Throw in a part-time job (I now work at the co-operative, thank you very much), and I'm pretty much done for. BUT - as always, I've compiled a long list of monthly favourites for you. Don't say I never get you anything.
If you're not wearing a scarf every time you leave the house right now, what are you doing with your life? It's bloody freezing and I expect you all to dress accordingly. I love this tartan scarf that I picked up from boohoo.com last year, they don't sell this exact one anymore but I've linked a similar style here. I don't know about you but during the winter months I'm constantly struggling with my hair. Whether it's getting tangled in your scarf or those extra ten (twenty) minutes in bed cost you your shower privileges - life's hard. I've found Ruth Crilly's COLAB Dry Shampoo to be a complete life saver. For those of you who don't know, Ruth Crilly is a blogger (A Model Recommends) as well as a model (obviously). She's amazing and so is this product, you've absolutely got to give it a try.
Another winter favourite of mine is everything berry-toned. Obviously Essie's Bahama Mama was the first thing that I picked up, it's just the most beautiful, rich red. I wore it back-to-back throughout November, something that I never usually do. Seriously, it's a must-have. For a brighter berry I've been wearing Revlon's Up The Ante (as recommended by Essie Button, of course!) It's part of their newer 'Color Stay Gel Envy' collection and the formula is honestly like no other. It's quite a bit thicker than regular nail polish and lasts so much longer on my nails without the need for a top coat.
It wouldn't be a winter look without a lipstick to match. Hence
Rimmel's Lasting Finish Matte Lipstick
in 107. I've always been a bit nervous about the Kate Moss collection. To start with, they don't even have names, just numbers, which immediately confuses me. But I went ahead and swatched them all to find one that I liked and here it is. It's such a gorgeous matte red, much darker than anything I've ever worn before but I absolutely love it. You can see me wearing this on my Instagram,
here
. I would definitely recommend these lipsticks, after all, who doesn't want to look like Kate Moss?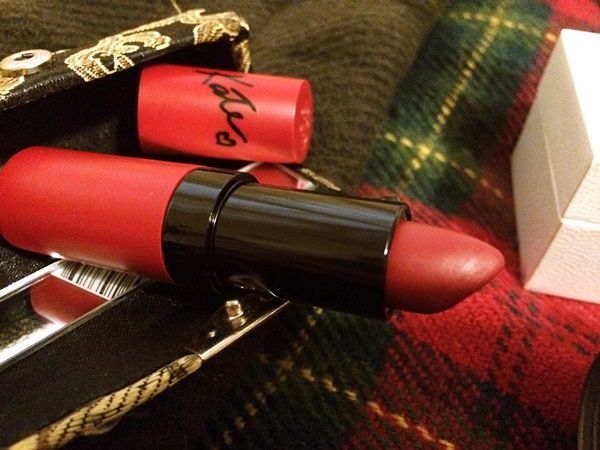 This season is all about sparkle. From the beautiful, glitzy dresses that we're seeing everywhere to iridescent clutches and sequined shoes. You know I'm going to wearing all of these things throughout December but for now I've made do with just a little bit of glamour. This shimmery nail varnish from Urban Outfitters gives the perfect glitter ball effect, I've got 'Ice Cream' and I will be wearing it constantly this winter. I don't think they sell this colour anymore but they've got so many lovely nail varnishes to choose from. As for glitz, I've finally got my hands on another
Pandora
ring. Who needs one when you can have two? I had a gift voucher left over from my birthday so I went and picked up this unbelievable
Oxidized Silver Flower Ring.
It stacks beautifully with my birthday ring and honestly, I'm obsessed.
The highlight of my month was winning a
Cohorted
giveaway (more on them later) including a couple of
Benefit
products. I don't need to tell you how amazing the Benefit products are, I am head over heels in love with everything I've tried and these are no exception. I won the
Hoola Bronzing Powder
which is such a lovely matte colour, perfect for contouring, and the
Rockateur
blush which is super shimmery and for some reason smells gorgeous. I'm obsessed with both and am thinking about doing a full review on those as well as telling you all about the wonder that is Cohorted soon.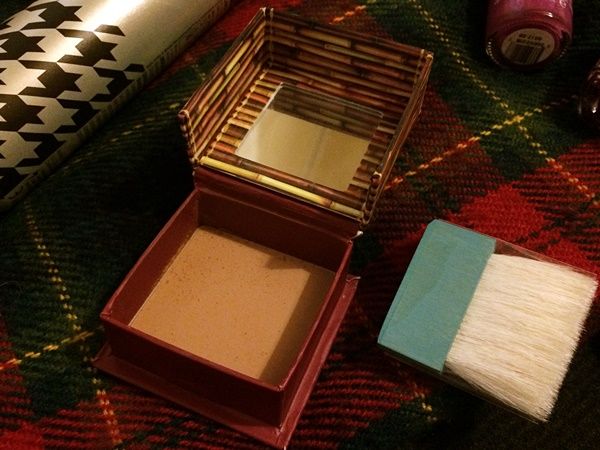 I've got a couple of other non-beauty favourites this month and top of that list is Instagram. I'm a self-confessed Instagram addict. My boyfriend will tell you that I won't eat a meal without taking a picture of it first, it would be embarrassing if my filters weren't so great. You can follow me
here
(shameless self promotion) and keep up-to-date with everything I get up to.
My other favourite is a band called Slow Club. I've loved their music for years but I recently went to see them live in Brixton and it was honestly one of the best gigs I've ever been to. My love has been rekindled and I need to share it with you. Their new album Complete Surrender is available to buy on iTunes as well as on Spotify. Listen to 'The Pieces' (my favourite song)
here
as a little intro and let me know what you think!
So, those were my November Favourites! I hope you liked them as it seems to be all I can provide for you at the moment. Fingers crossed they'll be more post coming soon once I work through the shit load of essays that are calling my name. Thanks for reading!